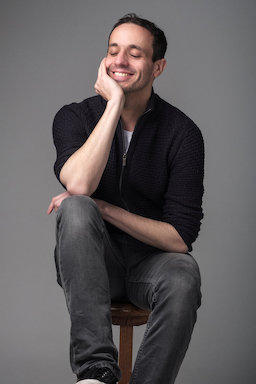 Hi, I'm Romain. I'm not going to use the third person here.
I'm a composer who grew up sandwiched between Nintendo games and 1980s family movies. However, I like to think my taste and abilities keep being shaped by various newer and incredible things people are doing nowadays. Born too poor to afford a music education and too pigheaded to do anything I was told as a kid, I am self-taught. Rumor has it I was playing TV themes by ear on my dad's cheap organ before I turned 4, I made a lot of music with 16 bit computers like the wonderful Amiga (being active in the "demoscene"), but today I use the latest Cubase Pro and record live instruments as well.
At 17 I sold my first couple of tunes to a budget PC game developer. At 21 I was hired as the sole sound artist at Gameloft, a position that gradually evolved to hiring teammates around the world and becoming the audio director for the whole company. I did that for 6 years, then co-founded and co-managed a now defunct game dev studio called Yullaby. We made unimportant games, but we're proud that they were programmed very well and ran fast. One of them was a puzzler called Magnetis, whose Steam version got stolen by someone in Russia who's been getting our sales revenue for a few years now. Running a business is incredibly difficult and taught me many valuable lessons. In 2010 I became a full-time freelancer. I have lived in 4 countries, two of which don't use roman characters. I once named a French wine for the Japanese market. I once scored an 18 second animation that was made by Hayao Miyazaki's nephew-in-law to show him privately as an homage. He wasn't pleased. My boss once asked me, in absolute seriousness, how much I thought it would take to get Myamoto to leave Nintendo and move country to come work for the company, making plagiarized java games. You read that right. They used a tune of mine at SXSW 2014 for a crowd-controlled game played on a giant screen. I am starstruck at the idea of meeting any famous badminton player. I don't know how to write a bio and everything you've just read I copy-pasted straight from my Tinder bio.
But most of all, I aim to create music and audio that engages you deeply and that – if applicable – will stay in your head so much that you'll hate me for it. I like to always try to find something new or unexpected to infuse my work. I'm extremely curious and love to experiment, and I'll always push things in new directions if given the opportunity.
| Project | Media/Platform | Year | Client/Employer | Role |
| --- | --- | --- | --- | --- |
| Untitled historical serious game | – | 2022 | Conservatoire National des Arts & Métiers (Paris) | Sound Director |
| Bubble Jcat | PC, Mac | 2021 | – | Composer |
| Various Snapchat and Instant games | Snapchat, Facebook | 2021 | Day7 Interactive | Sound Designer |
| Stone Breaker | Mobile | 2021 | Limebolt | Audio Director, Sound Designer, Composer |
| Unannounced project | Mobile | 2021 | Mobigame | Audio Director, Sound Designer, Composer |
| Unannounced indie project | – | 2021 | Parallel Circles | Sound Designer |
| UI sound design research | – | 2020 | Gamestream | Sound Designer |
| Ohana Island | iOS, Android | 2020 | Mybo | Additional music |
| Tom Clancy's Elite Squad | iOS, Android | 2020 | Ubisoft | Composer |
| New Super Lucky's Tale | Nintendo Switch, PS4, Xbox One, PC | 2019 | Playful Studios | Composer |
| Super Lucky's Tale (+ DLCs) | Xbox One X, PC | 2017, 2018 | Playful Studios / Microsoft | Composer |
| Bitmuch | TV, web | 2017 | Melting Prod, France 4 | Composer |
| Diamond Diaries Saga | iOS, Android | 2017 | King | Composer, Sound Designer |
| Wonder Boy – The Dragon's Trap | Consoles & PC | 2017 | Lizardcube | Sound designer, additional music and arrangement |
| Crush Them All | iOS, Android | 2016 | Godzilab | Composer |
| Royal Boulevard Saga | iOS, Android | 2016 | King | Composer, sound designer |
| Jeanne | PC | Canceled | Etienne Périn | Composer |
| Pirate Power / Pirate Story (JP) | iOS, Android | 2016 | Godzilab | AD, Composer, sound designer |
| Pyramid Solitaire Saga | iOS, Android | 2015 | King | Composer, sound designer |
| Diamond Digger Saga | Facebook | 2014 | King | Additional sound design |
| Teenage Mutant Ninja Turtles | iOS, Android | 2014 | Nickelodeon / The Game Bakers | Composer |
| Lily | Short film | 2013 | Yuichiro Nakano | Composer |
| Fuk Runner | iOS | 2013 | Riva Digital | Composer |
| Combo Crew | iOS | 2013 | The Game Bakers | Composer, additional sound design |
| Squids – The Edge of the Sea | digital comic | 2012 | Ape Entertainment | Composer |
| Squids Wild West | iOS | 2012 | The Game Bakers | Composer |
| Happy Street | iOS | 2012 | Godzilab | Composer, sound designer |
| Love Grid | TV | 2012 | Bigface / Freemantle / Asahi TV | Composer |
| BitMuch 2012 | TV | 2012 | Melting Productions | Composer |
| Squids | iOS, Mac, PC, Android | 2011 | The Game Bakers | Composer |
| Panic Flight | iOS, Android | 2011 | DeValley Entertainment / AMA | Composer |
| iBlast Moki 2 | iOS | 2011 | Godzilab | Composer |
| Air Hockey Star | iOS / Android | 2011 | Papa Nouel / AMA | Composer |
| Perfect Cell | iOS | 2010 | Mobigame | Trailer music, sound designer |
| Stardunk | iOS | 2010 | Godzilab | Composer, sound designer |
| Truckers Delight – Episode 1 (uncredited) | iOS | 2010 | Mobigame | Additional sound design |
| We Sing Encore | Wii | 2010 | Le Cortex | Additional sound design |
| Charmes 1856 | Short film | 2009 | Supinfocom | Composer |
| Cross Fingers (uncredited) | iOS | 2009 | Mobigame | Sound recording |
| Edge | iOS | 2009 | Mobigame | Co-composer, mixer, soundtrack producer |
| Fire Panic | Nintendo DS, iOS | 2009 | Yullaby | Composer, sound designer, game designer |
| Horse Life 3 | Nintendo DS | 2009 | Deep Silver, Neko Entertainment | Composer, sound designer |
| iBlast Moki | iOS | 2009 | Godzilab | Composer, sound designer |
| Magnetis | WiiWare, PC | 2009 | Yullaby | Composer, sound designer |
| The Lighthouse Keeper | Short film | 2009 | Les Gobelins, l'Ecole de l'Image | Composer |
| Code Lyoko Fall of X.A.N.A | Nintendo DS | 2008 | Yullaby, Neko Entertainment, The Game Factory | sound design, additional music |
| Horse Life 2 | Nintendo DS | 2008 | Deep Silver | Composer, sound designer |
| Wild Casting | Short film | 2008 | Les Gobelins, l'Ecole de l'Image | Composer |
| Asphalt 3: Street Rules | Mobile | 2007 | Gameloft | Lead sound designer |
| Brothers in Arms DS | Nintendo DS | 2007 | Gameloft | Sound Director |
| Catz | Mobile | 2007 | Gameloft | Sound Producer |
| Deal Or No Deal | Mobile | 2007 | Gameloft | Sound Producer |
| Desperate Housewives | Mobile | 2007 | Gameloft | Sound Director |
| Dogz 3D | Mobile | 2007 | Gameloft | Composer (themes) |
| Edge | Mobile | 2007 | Mobigame | Co-composer |
| Guitar Legend | Mobile | 2007 | Gameloft | Early technical advising |
| Holy Wars | Mobile | 2007 | Devalley Entertainment | Composer |
| Horse Life | Nintendo DS | 2007 | Deep Silver | Composer, sound design |
| Lost | Mobile | 2007 | Gameloft | sound design |
| Oban Star Racers | Mobile | 2007 | Devalley Entertainment | Music adaptation |
| Tom Clancy's Splinter Cell: Double Agent | Mobile | 2006 | Gameloft | Sound Director |
| 2006 Real Soccer | Mobile | 2006 | Gameloft | Sound Director |
| AND 1 Streetball | Mobile | 2006 | Gameloft | Sound Director |
| Brain Challenge | Mobile | 2006 | Gameloft | Sound Producer |
| Bubble Bash! | Mobile | 2006 | Gameloft | Sound Director |
| Derek Jeter Pro Baseball 2006 | Mobile | 2006 | Gameloft | Sound Director |
| Dogz | Mobile | 2006 | Gameloft | Composer |
| Eco City (sound effects) | PC CD-ROM | 2006 | F4 | sound design |
| Gangstar: Crime City | Mobile | 2006 | Gameloft | Composer (title music), Sound Producer |
| Lumines Mobile | Mobile | 2006 | Gameloft | Sound Producer |
| Lumines mobile (sound director) | Mobile | 2006 | Gameloft | Sound Director |
| Miami Nights: Singles in the City | Mobile | 2006 | Gameloft | Sound Director |
| Miami Nights: Singles in the City | Nintendo DS | 2006 | Gameloft | Sound Director |
| Mystery Mansion Pinball | Mobile | 2006 | Gameloft | Sound Director |
| Naval Battle: Mission Commander | Mobile | 2006 | Gameloft | Sound Producer |
| Open Season | Mobile | 2006 | Gameloft | Sound Producer |
| Paris Hilton's Diamond Quest | Mobile | 2006 | Gameloft | Sound Producer |
| Platinum Mahjong | Mobile | 2006 | Gameloft | Sound Producer |
| Platinum Sudoku | Mobile | 2006 | Gameloft | Sound Producer |
| Rayman Raving Rabbids | Mobile | 2006 | Gameloft | Sound Producer |
| Sexy Poker | Mobile | 2006 | Gameloft | Sound Producer |
| The O.C | Mobile | 2006 | Gameloft | Sound Producer |
| Tom Clancy's Rainbow Six Vegas | Mobile | 2006 | Gameloft | Sound Producer |
| Tropical Madness | Mobile | 2006 | Gameloft | Sound Producer |
| Vijay Singh Pro Golf 2007 | Mobile | 2006 | Gameloft | Sound Producer |
| Vijay Singh Pro Golf 2007 3D | Mobile | 2006 | Gameloft | Sound Producer |
| 2005 Real Soccer | Mobile | 2005 | Gameloft | Sound Director |
| Asphalt: Ubran GT 2 (sound director) | N-Gage | 2005 | Gameloft | Sound Director |
| Assault Wings 1944 | Mobile | 2005 | Gameloft | Composer, sound design |
| Brothers in Arms: Earned in Blood | Mobile | 2005 | Gameloft | Sound Producer |
| Disney's Lion King: Hakuna Matata Adventures | DVD-KIDS | 2005 | 3-Plus | Composer |
| Disney's My Princess Fairytale | DVD-KIDS | 2005 | 3-Plus | Composer |
| Disney's Winnie the Pooh | DVD-KIDS | 2005 | 3-Plus | Composer |
| Football Trivia | Mobile | 2005 | Gameloft | Sound Producer |
| Lafuma Unlimit (sound effects) | PC CD-ROM | 2005 | F4 | sound design |
| Massive Snowboarding | Mobile | 2005 | Gameloft | Sound Producer |
| Medieval Combat | Mobile | 2005 | Gameloft | Sound Producer |
| Midnight Bowling | Mobile | 2005 | Gameloft | Sound Producer |
| Midnight Pool | Mobile | 2005 | Gameloft | Sound Director, music adaptation |
| Midnight Pool 3D | Mobile | 2005 | Gameloft | Sound Director, music adaptation |
| New York Nights: Success in the City | Mobile | 2005 | Gameloft | Sound Director |
| Prince of Persia: The Two Thrones | Mobile | 2005 | Gameloft | Sound Director |
| Tom Clancy's Splinter Cell: Chaos Theory | Mobile | 2005 | Gameloft | Composer, sound design |
| Tom Clancy's Splinter Cell: Chaos Theory N-GAGE | N-Gage | 2005 | Gameloft | Sound Director, co-composer |
| Totally Spies!: The Mobile Game | Mobile | 2005 | Gameloft | Sound Producer |
| Vijay Singh Pro Golf 2005 3D | Mobile | 2005 | Gameloft | Sound Producer |
| War of the Worlds | Mobile | 2005 | Gameloft | Composer |
| Sport TV spot 1 | TV advertisement | 2004 | Leo Burnett agency | Composer, sound design |
| Sport TV spot 2 | TV advertisement | 2004 | Leo Burnett agency | Composer, sound design |
| 1000 Words | Mobile | 2004 | Gameloft | Sound Producer |
| 2004 Real Soccer | Mobile | 2004 | Gameloft | Composer, sound design |
| Asphalt: Ubran GT | N-Gage, Nintendo DS | 2004 | Gameloft | Composer, sound design |
| Asphalt: Ubran GT | Mobile | 2004 | Gameloft | Sound Director |
| Block Breaker Deluxe (co-composed with Mathieu Vachon) | Mobile | 2004 | Gameloft | Co-composer |
| Chessmaster | Mobile | 2004 | Gameloft | Can't remember |
| Marcel Desailly Pro Soccer | N-Gage | 2004 | Gameloft | Composer, sound design |
| Might & Magic | Mobile | 2004 | Gameloft | Co-composer |
| Prince of Persia: The Warrior Within | Mobile | 2004 | Gameloft | Co-composer |
| Prince of Persia: Warrior Within | Mobile | 2004 | Gameloft | Sound Director |
| Rail Rider | Mobile | 2004 | Gameloft | sound design |
| Tom Clancy's Ghost Recon: Jungle Storm | N-gage | 2004 | Gameloft | Instrument programming, title music adapt. |
| Tom Clancy's Rainbow Six 3 | Mobile | 2004 | Gameloft | Composer, sound design |
| Tom Clancy's Splinter Cell: Pandora Tomorrow | Mobile | 2004 | Gameloft | Composer, sound design |
| Van's Skate & Slam | Mobile | 2004 | Gameloft | Composer, sound design |
| Nightmare Creatures | Mobile | 2003 | Gameloft | Sound Director |
| Nightmare Creatures 3 (canceled) | Xbox | 2003 | Ubisoft / Gameloft | sound design |
| Planet Zero (aka "Solar Target" and "Solar Legions") | Mobile | 2003 | Gameloft | Composer, sound design |
| Prince of Persia: Sands of Time | Mobile | 2003 | Gameloft | Composer, sound design |
| Rainbow Six 3: Raven Shield | Mobile | 2003 | Gameloft | Composer, sound design |
| Rayman 3: Hoodlum Havoc | Mobile | 2003 | Gameloft | Composer, sound design |
| Siberian Strike: Episode II | Mobile | 2003 | Gameloft | Composer, sound design |
| XIII | Mobile | 2003 | Gameloft | Sound Producer |
| Cartel Wars | Mobile | 2002 | Ludigames | sound design |
| Cluster Pirates | Mobile | 2002 | Gameloft | Composer, sound design |
| Earth Invasion | Mobile | 2002 | Ludigames | Composer, sound design |
| Gameloft's Solitaire | Mobile | 2002 | Gameloft | Composer, sound design |
| Gulo's Tale | Mobile | 2002 | Gameloft | Composer, sound design |
| Incubus | Mobile | 2002 | Ludigames | sound design |
| Lock'em Up | PalmOS | 2002 | Ludigames | sound design |
| Prince of Persia: Harem Adventures | Mobile | 2002 | Gameloft | Composer, sound design |
| Rayman Bowling | Mobile | 2002 | Ludigames | sound design |
| Rayman Golf | Mobile | 2002 | Ludigames | sound design |
| Rotomino's Box | PalmOS | 2002 | Ludigames | sound design |
| Siberian Strike X | Pocket Pc | 2002 | Gameloft | Composer, sound design |
| Skate & Slam | Mobile | 2002 | Gameloft | Composer, sound design |
| Speed Devils | Mobile | 2002 | Gameloft | Composer, sound design |
| Summer Volley | Mobile | 2002 | Ludigames | sound design |
| The Book | Short film | 2002 | Martial Reynes | Composer |
| Tom Clancy's Rainbow Six: Broken Wing | Mobile | 2002 | Gameloft | Composer, sound design |
| Tom Clancy's Rainbow Six: Urban Crisis | Mobile | 2002 | Gameloft | Composer, sound design |
| Tom Clancy's Splinter Cell | Mobile | 2002 | Gameloft | Composer, sound design |
| Tom Clancy's Splinter Cell: Extented Ops | Mobile | 2002 | Gameloft | Composer, sound design |
| Tom Clancy's Sum of All Fears | Mobile | 2002 | Ludigames | Composer, sound design |
| Atomino | PalmOS | 2001 | Ludigames | sound design |
| Flinstones Viva Rock Vegas Racing (canceled) | Dreamcast | 2001 | Swing! Entertainment | Composer |
| Hidden Invasion | Playstation 2 | 2001 | Swing! Entertainment | Composer, sound design |
| Infectious Ground | PocketPC | 2001 | Ludigames | Composer, sound design |
| Rayman Ultimate | PocketPC | 2001 | Ludigames | Composer, sound design |
| Saturn Strike | PalmOS | 2001 | Ludigames | sound design |
| Siberian Strike | PalmOS | 2001 | Ludigames | Composer, sound design |
| Summer Volley | PalmOS | 2001 | Ludigames | sound design |
| Toxic Boxing | PalmOS | 2001 | Ludigames | sound design |
| Weecky Weecky Dancing | PalmOS | 2001 | Ludigames | sound design |
| Flinstones Viva Rock Vegas Racing | Playstation 2, GameCube | 2000 | Swing! Entertainment | Composer, sound design |
| Sky Surfer | Playstation 2 | 2000 | Swing! Entertainment | Composer |
| Tigger's Honey Hunt | Playstation | 2000 | Doki Denki, Buena Vista Games | Music adaptation, technical assistance, instrument programming |
| Bang! Gunship Elite | Dreamcast, PC | 1999 | Rayland, Redstorm | Co-composer |
| Thingumajig (canceled) | Dreamcast | 1998 | Polygon Studio | Composer, sound design |
| Bubble Kids | PC | 1998 | Pointsoft | Composer |
| Pang (tentative name) | PC | 1998 | Pointsoft | Composer, sound design |
| Jungle Colors | PC | 1997 | Pointsoft | Composer |
| Cheops | PC | 1997 | Pointsoft | Composer |